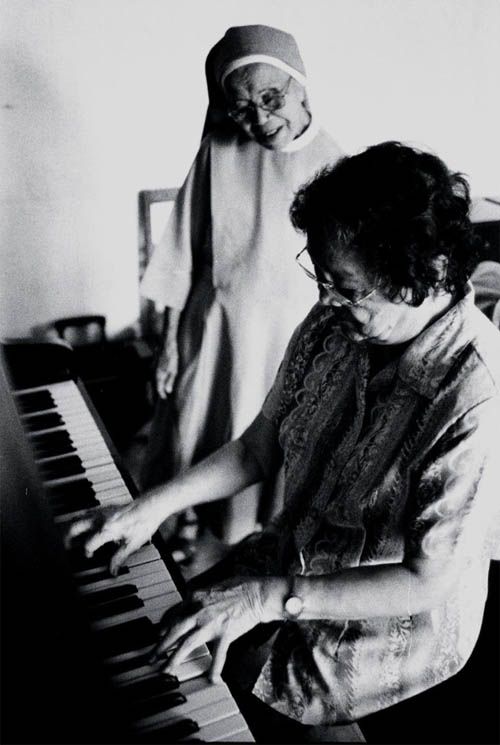 I don't know how or why but I started playing classic Christmas songs, say like
"Chestnuts roasting in the open fire..."
, or
"Have yourself a merry little christmas.."
and I couldn't help but feel emotional - eyes brimming with tears and all. I mean, I never experienced a real white christmas until now. I'm from the south of the Philippines, which is equivalent to living in Timbuktu for most people, including those from the NORTH of the Philippines. And honestly, I cannot find a part of me that doesn't feel happy when I think about Christmas, especially those times, as a child, I celebrated together with family and relatives in Dumaguete City, my personal Prague.
I remember my grandpa calling everyone to the living room where my grandma would play the piano, smiling everywhere, and the smell of everything my aunt would cook for all of us.. mmmmm... there would be a huge fruit basket with all sorts of round colored fruits (chinese tradition), Ham with pineapples, pancit canton (Filipino stir-fry noodles), lumpia shanghai (spring rolls), potato salad, fruit salad, other delicious dishes and the yummiest cakes and flans you can imagine, and of course presents under the tree! Theres so much more to this than can be written and as much as a trip down memory lane can't change the fact that I'm away from home, I'll reminisce anyway and thank my family for giving me such rich memories.
Here's some shots I took of Dumaguete 3 years ago that includes my 90 year old grandma playing the piano, me riding behind a motorbike, the boulevard, the streets, meeting people on the way, enjoying a beautiful day.